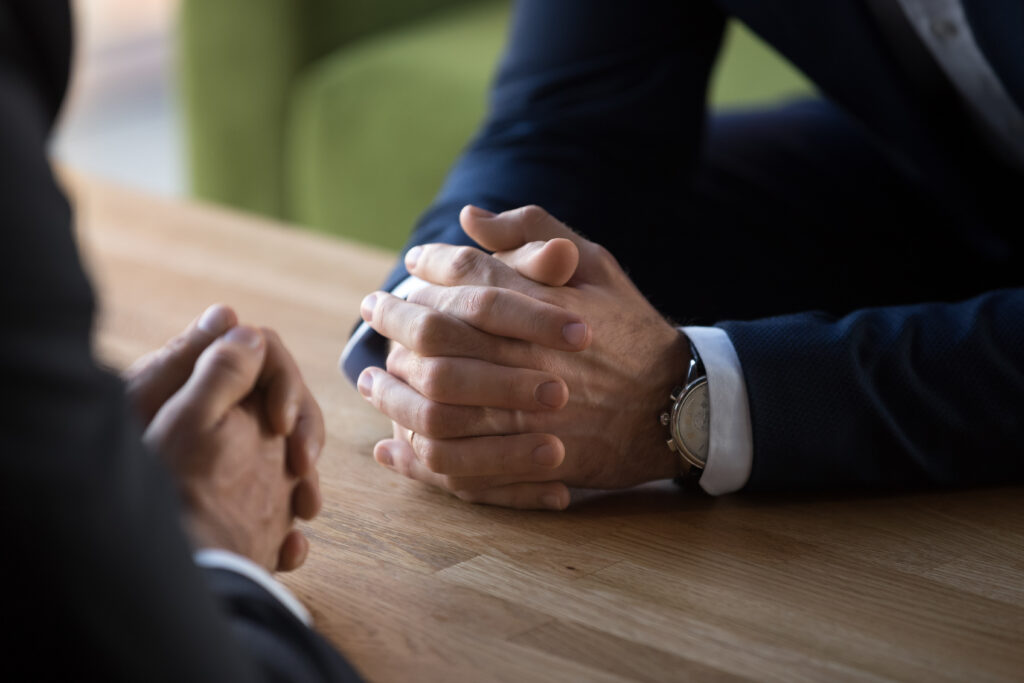 Want to stay calm when negotiating? If you have invested the necessary time to prepare well and compensated for any imbalance in power, you might be starting the imaginary race in a pole position. (If not, read this: The Ultimate Guide to Handling Negotiation Stress).

However, that is not enough. You also need to perform your best during the negotiation so that you can capitalize on you preparation. . So put your preparation aside for a while. Clear your mind.

You will never know the full story without talking to the other party. The best deal must be negotiated with them and all that you prepared beforehand are just hypotheses. Here's a comprehensive guide for you. (authors: me and Saga Performance).
Focus on them
When talking with the other person, it is quintessential that you focus on them! According to Stuart Diamond, one of the world's leading experts in the field, negotiation is 55% about the people, 37% percent about the process, and only 8% about the substance.

So instead of assuming, connect with the person, verify your hypotheses, and learn as much as you can. Paradoxical as it may sound, you will need to put your preparation aside to open your mental capacity for the other person across the table. Here's how to do it.
Face time is better
One of the biggest screw-ups happens over the telephone. While it might be actually easier to stay calm when negotiating over the phone, you pay for the limitations. For example, it's much easier to be caught unprepared especially if we are the called party not the calling one.

What more, we miss body language of the other party, so it is hard to evaluate how they feel or if they are even alone. We can easily end up negotiating with a group of people without ever realizing!

Also, the sense of commitment is much weaker. Just imagine how easy it is to pretend the connection was lost over the last few seconds: "Sorry, what did you say? I can't hear you properly". It only adds to the perceived stress and many a time it has been used as a tactic by the other party. Simply said, if the deal is worth your while, meet them face to face. Or at least, use a videoconferencing app.
Build rapport
Connect with the person first to create a sense of emotional safety and security. Kindness counts. Pay attention to the small things: the handshake, using their name, or making small talk. Make sure you never let the other party feel hurt in the negotiation. If they do, they'll find a way to get even and sometimes in the worst possible way.

If you are negotiating on behalf of a company, it is important that you talk to your partners as individuals. Also, remember to show that you value them and respect them. If they don't like you, they won't trust you and they won't hear anything you say.
Be curious
All too often, people prepare what they want to say in a negotiation. To stay calm in Negotiation, focus on your partner and uncover as much information as possible: What is the person feeling? How do they perceive the situation? What are the pictures in their heads? Again, your primary focus is the other person and what they have to say.

Before you ask a question, you may label your behavior. Say "I have a question." or "May I ask a question?". This may sound redundant, but again, it builds emotional safety and helps the other party focus on your question rather than be afraid of what you will say.

You may also repeat the last few words of what your counterpart said with curiosity in your voice. That way, you prompt them to continue talking. Remember, even if you don't agree, you at least need to know what they believe and where they stand.
Use A.L.S.
Active listening has been among the core skills of negotiators for a long time. It is simple and it works: we learn when we listen. In layman's terms, do something to encourage the other person to do most of the talking.

First of all, tolerate silence. When the other person finishes talking, say nothing. Wait for them to continue their train of thought. If you master this behavior, you are maintaining control over the process and chances of a deal are growing rapidly. 

If you are uncomfortable and cannot sit and wait, repeat the last few words of what they said. They can be the last three or any important parts of the message you want to learn more about.
Mirror their feelings
If you are more comfortable with emotional labeling, tell the person how he or she sounds – angry, depressed, etc.  Chris Voss, the former FBI negotiator, recommends using phrases like "It seems like…" or "It sounds like…"  or "It looks like…" to verbally acknowledge the message you heard.

Summarize or paraphrase what the person has said. Use minimal encouragers like, When? Really? Oh. Then what?

Remember, people like to give things to others who listen to them, who value them, and who consult with them.
Bring up the issues and concerns early on
To keep authenticity in the dialogue, don't be afraid to speak about your concerns and observations: "Tom, we had a good discussion last week but today we're not. If it's something I said or did, I'm sorry. I want us to get back on track. What happened?" They might be a bit surprised, but you are sending an important signal about the process of this negotiation: talking is a sign of strength, not talking is a sign of weakness.

In fact, you can do the same for them: you can voice their unexpressed concerns openly to help you both deal with it right away: "You may think that we were hiding this information to deceive you…". The reaction you want from your counterpart is a "No, that's not true…". Still, deep down they'll appreciate putting it on the table right away so that they can put it aside.
Timing is everything
The same holds true for the sensitive issues regarding the substance of the negotiation. If you need to talk about an issue, name it in the first quarter of the discussion. Having the issues prioritized will secure you enough room for discussion and finding an acceptable solution for both parties. Again, think of it as a common problem you are solving together; you're listing the critical parts you need to solve together.
Being indecisive can be good
There's nothing wrong with consulting before deciding. Some negotiation counterparts might be able to create a sense of urgency, but remember: we are most resourceful when we are relaxed and the stakes are low, which is hardly amid an important negotiation. It's more likely in a moment of quiet reflection.

This is the time to recall your preparation: are you within the expected commitments you prepared for in the beginning? Remember: being too decisive can be worse than saying "I don't know, I have to check."
Don't overcommit
Moreover, you're probably not the only person affected by the negotiation. If you don't consult those parties on your side who are affected, you might alienate them. They might oppose you just because you have devalued them. Beware of this and don't make commitments you can't follow through on.

The same actually holds true for the other party, as well. If they feel they need more time to decide, consult somebody, or are just not ready for a certain level of commiment, don't push. Demonstrate that you are not there to coerce or exploit them. Show you are negotiating in good faith.
Use their standards
If you can persuade them by using standards they agree with, you will close the deal faster. Ideally, in the preparation phase you gained some sense of what their standards are. Even better, you might have a sense of what their personal values are as a result of the discussion.

The way you use standards is ideally in the form of a question: Is it important for you to…?  Do you agree with me that…? Or formulate negatively: What would be wrong about…? Why don't we…?
Make yourself the exception to the rule
I remember visiting a retail shop with the company CEO in a shopping mall before the opening hours for the public. The guards just wouldn't let us in, no matter how many times or how angrily he repeated that he was the CEO and he had a shop in there he needed to visit.

After cooling off, we used another entrance, explained our situation to a second guard and asked for help. He was consistent with his colleague and at first said no. We asked if he ever made an exception to the rule. He stepped aside and let us in. It worked like magic.
Ignore threats, empathize instead
Should the other party start making implicit or explicit threats during the discussion, do not judge or react negatively. It is key to understand that they are talking from the point of fear. Empathize instead, saying something along the lines of: "Oh, you must be under a lot of pressure." Remember, the words must be yours and void of any irony or sarcasm. By empathizing, you won't give them a reason to escalate their demands or entrench themselves in a given position.
Do not be afraid of deadlocks
Sometimes, the other party tries to push you against the wall. For many reasons (the identity quake we mentioned above may kick in), we may feel like a failure for not being able to close the deal. Bear in mind, however, that the negotiation is not over until you decide it is. Things can be renegotiated, you can return back to the negotiation table, and a bit of time may actually help both parties. Stay cool and calm under fire.

If they offer terms you cannot accept, soften your "No" to keep their amygdala reaction in check. You may say things like: "Your offer is very generous. I'm sorry, that just doesn't work for me." Or "I'm sorry, I just can't do that." One powerful way to deal with extreme demands is to invite them to your side of the table: "How am I supposed to do that?".
Probe before you agree to disagree
If they're threatening to leave the negotiation table, remain calm and cool and ask them what they hope to achieve by leaving. They may be trying to induce pressure or they may just be escaping the discomfort of the situation. Either way, it's good to probe and not simply accept.

Regardless of your efforts, they may still be pushing for a deadlock on purpose. In that case, thank them for taking the time to talk to you and stop negotiating for the time being.
Take "5 minute holidays" if need be
Negotiators use the term "going to the balcony" to see things from a larger perspective and to be able to keep calm during negotiation. After discussing for, say, 60 minutes, especially if you are alone, your brain will need some rest. It's a sign of self-respect to ask for a cup of tea or a call with your team. If you feel the tension is building up, simply suggest a short break to let things cool off a bit. Leave the room, get some fresh air, or connect with your counterpart on a human level again.
Reconnect
Five minutes of unguarded small talk can give you a whole new perspective on their wants or needs, or internal division of power. Or you may find out that you actually have something in common – background, a hobby, or you know the same person. If you use your own name, it will make you a real person again. Using theirs also helps them abandon their role for a little while. All these small things help break the tension and shift back to cooperative mode.
Listen for the closing signals
When the other party starts talking in the future tense, start asking about what's next or propose solutions in an if… then… format – it is a closing signal. Remember, this is the moment when anxiety kicks in for both parties and it's also a critical moment because people sometimes try to get the last minute benefits for themselves.

Remain calm and use the power of silence tactically to make them suggest the next steps. The main questions to ask at this point are the "How" questions that run past the finish line: How will we proceed from here? How will we know we're on track? How does this affect the rest of the team? How can we make sure we address all the important challenges? 

Simply help your partner paint the picture of how you'll get from the Yes to the final destination: the deal being implemented successfully.
Roll the log
When articulating the deal, start with the areas where you agree so that you initiate the so-called log- rolling process. Once small issues are negotiated, proceed to the bigger ones and save the knottiest or zero-sum issues for last.

Remember that concessions are not appreciated unless effort is expended to obtain them. So resist the temptation to give things away at the last minute.

At this point, be on the lookout for your partner overcommitting. Help them avoid that. That way you'll maximize the likelihood that they'll be able to deliver on their part of the bargain. 
End on a positive note
At this point, magnify the positive emotions one more time. Summarize what you agreed on and thank them for their time and the progress made. Remember that a simple Yes at the end is often not enough; it can be used as an escape route. What you're after is a true agreement that leads to action. The deal might take weeks or months to implement, you might need to interact with them after the deal is signed. You want to start the next meeting on a constructive note and with a trusting relationship.  

Also, the last few minutes before everyone leaves is a golden opportunity to engage your intuition. Do you feel their commitment is genuine? Do they show positive emotions and signs of relief? Or do they seem tense and ill at ease? When something doesn't add up, consider it an opportunity.
Recharge after the negotiation
Negotiation is not over when both parties shake hands. You need to recharge you batteries first and then analyze the process and the result. Both, actually!

Negotiation takes up a lot of your mental energy, so expect an energy dip. You may disconnect for a while, have a short walk, or engage in a completely different activity for at least an hour.
Summarize & thank them
Within 24 hours after the negotiation, follow up in writing. Confirm the commitments made and act on your commitments. If you promised to send some information, send it. If you needed to consult with somebody else, inform them about the result or that the meeting is being planned. That way, you'll strengthen your credibility. You want to be consistent and predictable.
Celebrate!
When you've recharged your batteries slightly, it is a good idea to celebrate the result of the negotiation. You want to create a positive anchor for your brain and strengthen your self-confidence. 

The second reason to celebrate is to beat the doubt we always have: we question whether we could have done better, whether there was more to obtain. And that uncertainty eats at us. Unnecessary stress, don't you think?  

Finally, reinforcing others who helped you close the deal will also build an important precedent for the future. You'll want them to make the effort again next time, won't you?
Do a post-negotiation debrief
After your celebration, do take time to evaluate the negotiation process. The result itself is nice, but if you don't know what your effective moves were that helped you coin it, you can't repeat your successful moves. Focus on the following: what were your effective behaviors? What did they achieve? How did your preparation help you?

Of course, you also need to ask yourself what you can do differently next time. But make sure you don't focus only on this question, skipping the positive aspects. Stick to the 4:1 ratio: that is, identify four positive behaviors for each one thing to improve.
Continue learning
The above-mentioned 4:1 ratio is important because the human mind wants to continue making an effort only if it's reinforced. If you feel punished by your inner self-talk, you will start avoiding negotiations.

Unlike riding a bike, negotiation is an acquired skill that you start losing if you don't practice frequently. Look for other opportunities for a deliberate practice. 

Just remember that for your brain to learn as fast as possible, focusing on one thing at a time is enough. If you keep at it, you'll stay more and more calm when negotiating. 

With us, you can sign up for an individual negotiation training or even for an advanced Master Coaching for Executive Negotiators. In both formats, you'll get regular negotiation workout with precise feedback. The latter will measure your performance and stress levels with real time data! The compound effect of your incremental improvements will surprise you in no time.